Morelia spliotes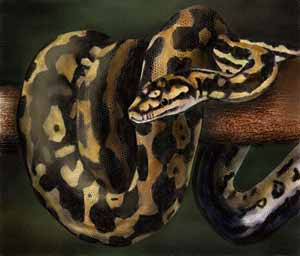 If you would like to contribute to this

Morelia spliotes

information page, please send materials to

web site editor
A.K.A.

Carpet Python; Diamond Python

DESCRIPTION COLORATION

Diamond Python (Morelia spilotes spilotes)- Shiny green-black with yellow diamond shaped markings.
Carpet Python (Morelia spilotes variegata)- Large variety of color and patterning. Brown - gray.

SIZE

Max = 13 feet
Ave = 6.5 feet. Slender in shape.


HOME

Australia, New Guinea

HABITAT

This snake can live in a large variety of different habitats: Damp forests, scrubland, dry climates.

LIFESTYLE

Morelia spilotes will live in trees or on the ground depending on the habitat in which it is found. Mainly nocturnal. This snake may be found hiding and/or living in hollow logs or burrows created by rodents or other animals.
---
For more information see these other Web Sites:

Python.net
---
---
Bibliography

Corborn, John. Boas & Pythons and Other Friendly Snakes, Neptune City, New Jersey: T.F.H. Publications, Inc. 1995.

Obst, Fritz Jurgen, and Dr. Klaus Richter, and Dr. Udo Jacob. The Complete Illustrated Atlas of Reptiles and Amphibians for the Terrarium. Neptune City, New Jersey: T.F.H. Publications, Inc.
---